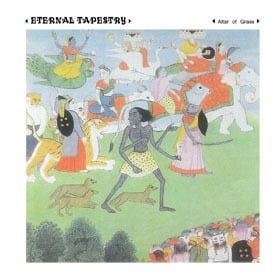 €

3.00
[Label: Hyperblasted Recordings, Catalog No: HyRe013]
Eternal Tapestry is a psych super-group. It features Nick Bindeman (Jackie-O Motherfucker, Tunnels) on guitar/vocals, Jed Bindeman (Heavy Winged, Bloodbiker) on drums, Dewey Mahood (Jackie-O Motherfucker, Plankton Wat, Bloodbiker) on guitar as well as Bob Jones (Evolutionary Jass Band, Oregon Artifical Limb Co., Fruitface) on bass.
This planet rock element released last year by Solar Commune and Hyperblasted Recordings proudly presents its reissue. Keeping the original artwork and making a new style layout (by KENO), presenting a new visual of their music.
Planets and rock. Space and music. Psychedelic. Words. Words. Words. Trying to describe the vibes of Eternal Tapestry. Difficult. Let their music speak. It's easier.
"Eternal Tapestry kick spacey stoner rock with interplanetary sketches evolving into an ode to wind-battered biker hair birthed from full-out riffage. An exciting cross between Anthem of the Sun-era Grateful Dead and Hawkwind with touches of Can." (Apples and Heroin)
"Eternal Tapestry is seemingly adaptable to an infinite degree, moving from drifting psychedelic laze to crashing, shouting beautiful anarchy." (Willamette Week)
"Speaking of the psyche, trippy-as-fuck locals Eternal Tapestry play some deep and simmering mindfuck noise." (Portland Mercury)